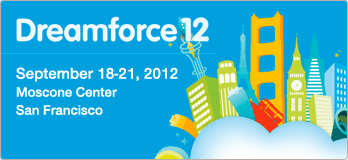 I don't often have the chance to get out of my academic bubble - so when I was invited to join the Radian6 team them at Dreamforce - I jumped on the opportunity!
I was given the chance - to speak in front of an audience from practice - not students - god forbid! - about how social media listening can transform how universities interact with prospective students, alumni, and fans.
I'll save the content of the conversations for another post - because I need to ruminate a bit on those - in this post, I want to focus on what I learned at #DF12...
1. Social CRM is transforming large, medium , and small organizations. Leaders who have used social to communicate with their stakeholders are realizing real competitive advantage from participating in authentic conversations about their products and services.
2. Industry needs workers who are trained to think deeply about strategies for deploying social in organizations. A skilled "social"workforce will know more than how to use communicate - it will understand the ecosystem of resources, skills, and analytics neccessary to elicit value from social media and strategies. To fill the workforce gap, academics need to bridge marketing, communications, and computing disciplines to create the "social worker" of the future.
3. Academics and industry need to interact - to learn more about how to effectively leverage social across public, private, and non-profit organizations. In many ways, industry is leading academe in developing tools and strategies for deploying social media strategy - however, academic research can contributre insight in many ways - from providing rich explanations for why images evoke more responses from tweets to explanations for why messages go viral across platforms.
I learned more through hanging out and meeting the folks who are shaping the "social ecosystem" in four days than I could have in a year of reading - it was truly an amazing experience!